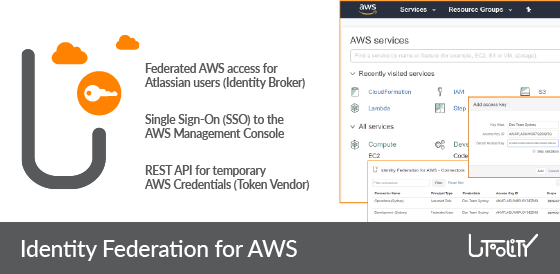 Federated Amazon Web Services access for users and tasks – grant fine grained permissions (using temporary credentials only) and integrate AWS into your Jira, Confluence, Bitbucket, and Bamboo DevOps workflows (Identity Broker/Token Vendor):
Secure your AWS credentials – store long-term AWS security credentials with industry standard encryption without exposing them to your users (or apps).
Empower your Atlassian users – provide Single Sign-On (SSO) to the AWS Management Console.
Provide variables with AWS Security Credentials and Amazon ECR Authentication Credentials to AWS unaware tasks – leverage tools that are not integrated with Identity Federation for AWS, but accept credentials for AWS or the Elastic Container Registry (Docker) via the command line or environment variables.
Integrate tailored AWS resources – use the REST API to provision AWS resources based on the Atlassian user name (e.g. a dedicated Amazon S3 bucket or EC2 instance per developer).
Forget about distributing or revoking AWS credentials, yet control access to AWS resources – grant fine grained permissions for AWS resources to Atlassian users via via Identity and Access Management (IAM) policies, based on one or few sets of long-term AWS security credentials only. Never worry about team composition or employee leave, AWS resource permissions simply follow group membership changes.
Learn more and try it for free in:
Bamboo | Bitbucket
Confluence | Jira